... or how to organize your digital notes!
If you have hung around Apps for iPads for any time you know that I think that Notes Plus is a GREAT note taking iPad app!  If you have read our previous articles, watched our videos or tutorials you already know what a great iPad app it is!  If you haven't had the opportunity to see for yourself be sure to check out those Apps for iPads Notes Plus articles now through this link.
When I wrote my very first review of this app I mentioned that you should watch it, because over the next year that it was going to evolve into a serious note taking tool.  I based that prediction on Viet Tran's promises, and boy is he delivering!  This brand new, it just hit the Apple App Store, revision brings us options that take this from a notebook to a serious tool for every application you can think to use it!  Whether you use it for personal or business use, in your home, office, school or anywhere else, it  fits the bill, keep you organized and insures you never miss another fact again!
Viet Tran is very involved in his app.  As he said it himself "the most rewarded thing for me while working on Notes Plus is a feeling of connecting with my users – listen to their comments, feedbacks, complains and compliments. I feel like having thousands of friends."  This shows. If you visit his website you will discover that he is in constant contact with his users, listening to their wants, need and concerns and actually doing something about them.  It is because of this interaction, along with his actions, that is making Notes Plus as close to a five star note taking app as you are going to find.
Stay with us "after the break" for our video-review of the newest additions and a chance to WIN Notes Plus!  That's right, through the generosity of Viet Tran, Notes Plus's developer we will be giving away five promo codes on Valentines Day.  It's simple to enter, just stay tuned after the video, to find out how one of them can be yours!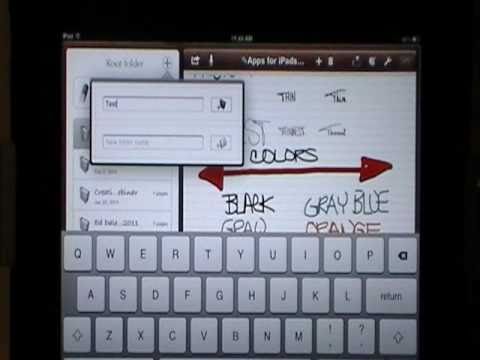 Okay, before anyone points it out, those aren't styluses crossed over the top of the new leather notebook icon… it's a pen and a compass! That's what happens when you rely on memory, especially with the camera rolling. I like the new icon, it denotes the richness that this note taking iPad app has, and continues to achieve.
Just look at all the new features:
unlimited depth of subfolders – with Notes Plus, you can create sub folders within sub folders within sub folders, … unlimitedly
ability to move notebooks and subfolders between folders – total freedom in organizing folders and notebooks – just like Mac's Finder or Windows' File Explorer
ability to copy and duplicate notebooks between subfolders
ability to copy and duplicate pages between notebooks (this becomes a nice tool for people who want to create a template page and use it across all of their notes)
comprehensive error checking for folders and notebooks operation – for example, you cannot delete a non-empty folder, you cannot move a page to a read-only notebook, copy a notebook to the same folder become "duplicate" – so name must prefix with "Copy of …
Password protected folders for private notebook. Instead of marking individual notebooks as password-protected, one just have to lock a folder as password-protected and put all private notebooks in this folder. This way is much more efficient and secure (the name of the notebook won't be revealed without a password)
Background recording: start recording, switch to other app (like a browser), the recording still continue until going back to Notes Plus. This feature is requested by many in conferences, meetings, and classes. Also locking the screen doesn't turn off recording
Popup dialogue box makes making and naming notebooks and folders simple
Automated Close-up box
So how can Notes Plus get any better???  Well, wait until you hear what Viet Tran promises for an upcoming future Notes Plus revision!  Beyond a yellow highlighter, which I like to tease him about, he assures me that … yes… we will soon see CUT and PASTE!!! It's already in the works, it just wasn't completed by this revision's release date… so watch for it soon.  BUT, don't wait for the next release to get your copy of Notes Plus… because that revision will be free for owners of Notes Plus!
Want a chance to win one of the five (5) copies of Notes Plus that Viet Tran has so generously offered to our readers?  All you need to do is leave a comment telling us why you want Notes Plus, in our Facebook Comment Box below and checkmark the box to "
Apps for iPads Recommended Reading:
Notes Plus iPad App Review – www.mahalo.com An in-depth review of the Notes Plus app for the iPad. Notes Plus is a powerful note taking app for the iPad. Notes Plus wants you to throw away that old notepad and step in to the future of note-taking Check out these …
Full-Featured Productivity from Notes Plus iPad App! – This is a review from my brand new iPad blog, It's a site designed to keep you up to date on all the latest iPad crazes, neat tricks, and other amazing.
Notes Plus – More videos: Getting Started Tutorial, Close-up Writing Mode Tutorial, Text Input Tutorial, Drawing and Shape Detection Tutorial, Note Organization and Recording. I tried the much touted Penultimate, and Sundry Notes, and UYH but this is the only app that thoroughly delighted me. It has everything I wanted zoom in and out on pages, smooth lines, drawing mixed with text, mixed with sound, mixed with shapes all together easily and seamlessly on the same page.